Purchase Order Software
Purchaseordersystem.net provides specialized set of software solutions for the development of your business. Our purchase order software helps to streamline business activities by managing sales/purchase order records in computerized way.
Purchase Order Organizer Software is a business program that provides easy and speedy management of entire sales and purchase orders for your organization with error free data entry records. Purchase order software handles entire Purchase order Process, inventory and stock details of business and easily prepares the comprehensive and procedural purchase order reports. Use Purchase Order Organizer Software to create and print standard and generic printable purchase orders, Layouts of purchase order contracts or approval form for your business easily.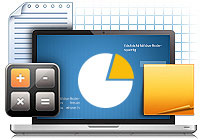 Purchase Order Management Software saves your valuable time and money from using low quality or improper PO sample, blanket purchase order format for example created in ms word, excel.Using DRPU Purchase Order Software, you can issue or request professional looking commercial PO documents.
Software advantages:
Easy management of Purchase and Sales order record details of small, large and other type of business organizations.
Efficiently manages the customers, vendors and company purchase order database records.
Accurately prepares the Sales, Purchase and Item Transaction reports of the Company.
Facilitate to track purchase and sale order number and payment details.
Organizes the entire purchasing process of the business organizations.
Password protected program with advance data backup and restore policy.
Provides facility to generate Purchase orders having Accounts payable, cash, credit, debit, cheques, credit cards, as well as customized payment options available.