Financial Accounting Software (Enterprise Edition)
Financial Accounting Software (Enterprise Edition) is the latest financial software edition for quickly managing and maintaining the entire inventory and invoicing details of your business organizations with an additional barcode support. The Latest Billing and Accounting Program has fast processing and facilitates an accurate management of entire financial database records, billing details and other multi-level business operations easily and efficiently.
Advanced Stock Management Application Program maintains clear, concise and well organized business records related to Billing, Taxation, Inventory, Stock, Voucher entries, Purchase/Sales records, Balance sheets and Ledger reports. Computerized Barcode Generating Utility prepares accurate and precise Billing records and Ledger reports, Balance Sheets, Trial Balance, Income-Expense details etc. Automated Billing Generation Program is password protected and Freeze Date security features to secure the accounting details from unauthorized users.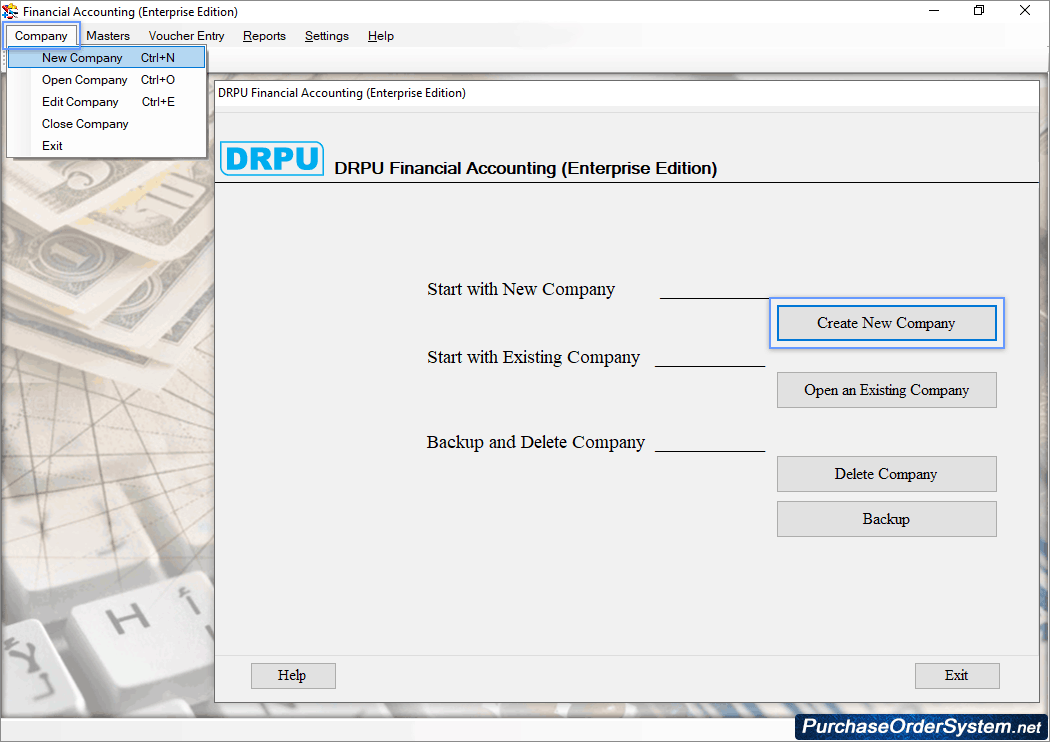 Invoicing Accounting Program is capable to generate professional barcodes that facilitates quick and easy accessing of product details and provides better alternative for complex pen-paper based accounting tasks. Barcode Supportive Accounting Software provides more effective and easy method of tracking inventory and pricing of products and offers automatic product identification.
PC Inventory Monitoring Software System is a useful tool for managing and maintaining the entire financial working of various business firms and helps in making the confident and correct business decisions. The E-accounting Management Program has an attractive user friendly graphical interface and no technical skills or prior training required to operate the accounting software. Versatile accounting software solution facilitates extremely fast product recognition and implementation of data with error free records thus assist employers with lowering overhead and cutting down time and labour cost.
Advantage of Barcode Feature Set in Accounting Software :-
Easy accessing the product information.
Quick item recognition and implementation.
User can efficiently monitor billing and pricing details.
Minimizes data errors with reduced work load.
Saves valuable time and money.
Features :-
Financial Accounting Software is an easy to use, cost effective and profitable tool for efficiently managing inventory and stock details for small and large business organizations.
Efficiently manages all the business accounting details including Account details, Item records, Stock, Inventory, and Invoice records and maintains Tax Type information, General Ledgers and Balance sheets.
Accounting software provides various Voucher Entry details related to Sale & Purchase, Payment voucher, Receipt voucher, Debit-Credit note and so on.
The generated barcode supports all types of barcode fonts and easily readable to all available barcode scanners and printers.
Advance Setting Financial module have many option including user setting, administrator setting, change password and so on.
Facilitates data connectivity feature which is useful to access the data from other network connected to parallel computer machine and local drives.
Alternative solution from the complicated and time taking pen and paper based accounting tasks and even reduces the business work load.
Impressive do-it-yourself feature with user friendly graphical interface that makes the software easy and functional for technical and non-technical persons.