Financial Accounting Software (Standard Edition)
Financial Accounting Software (Standard Edition) is a smooth and efficient solution for easily managing the billing and accounting details of the Company`s day to day transactions. Powerful Inventory Asset Management Program maintains the multi accounting and financial records with company-customer details, bookkeeping, stock and purchase records, general ledgers, etc. Advanced Business Billing Software Application reduces the work load by eliminating the data redundancy and minimizing data entry error that saves valuable time as well as money.
Proficient Finance Managing Software tracks and records Tax Type details, Bill Sundry Creation, Sales records, Voucher Entry (Payment voucher, Receipt voucher, Journal voucher, Debit note and Credit note), Currency management, and many more. Inventory and Invoicing Management Software accurately prepares Billing details, Bookkeeping records and Ledger reports including Profit-loss reports, Trial balance and Balance sheets, etc. Electronic Account Managing Program facilitates the entry or renewal of the entire Company details and easily modifies the customer profile that makes accounts maintenance more simple and easy for the organizations.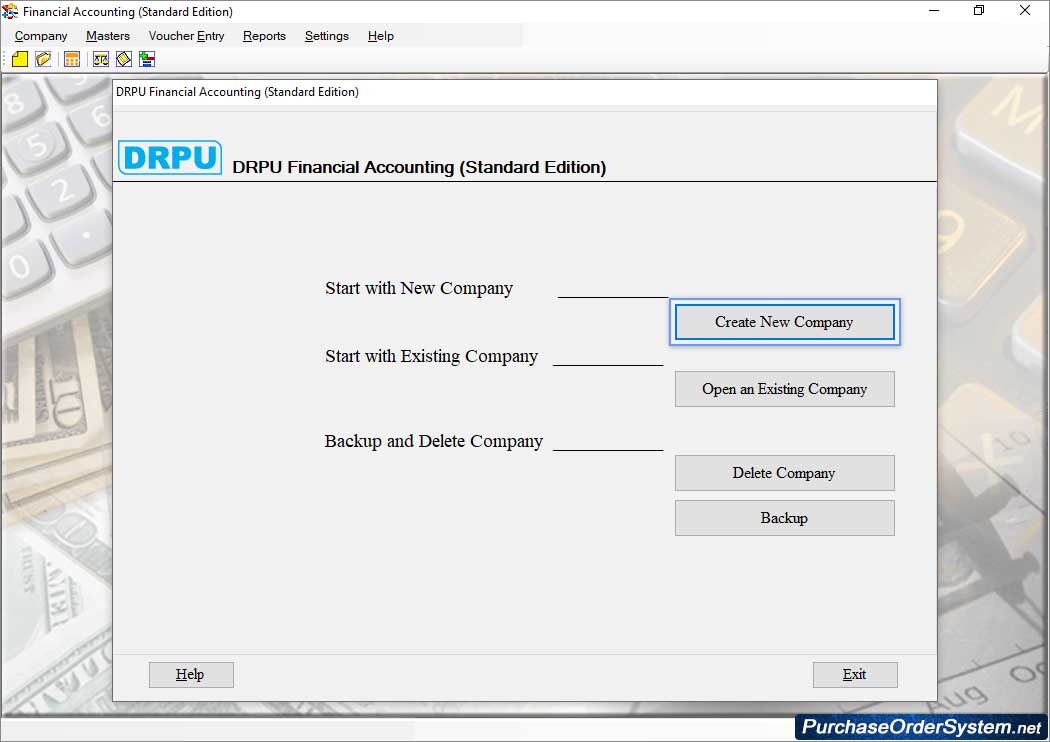 Bookkeeping Software Utility offers advanced security features including User Login and Freeze Date facility to secure all the confidential accounting and financial records from unauthorized persons. Simple and easy to use Financial Software Standard Edition has professional and impressive functionality with an exclusive user friendly graphical interface and no technical skills or training needed to work on software. Windows Compatible Office Accounting Software is a reliable, secure and inexpensive application and boost up the performance and productivity of growing or midsize business enterprises.
Features :-
Facilitate to maintain the Company accounting records, income and expense details in the easiest and simplified format.
Easily maintains the Invoice and Inventory records, Stock details, Voucher entries, Tax types, Profit/Loss records, Debit/Credit details etc.
Efficiently manage and update the Company-Customer profile, Clients' detail, Vendor`s records and facilitates computerized report generation.
Perfectly prepares the Balance sheets, Trial balance, and other ledger reports to evaluate the total business performance in any financial year.
Provides user login and freeze date security features to secure your confidential financial data.
Efficiently monitors and records the entire earning and expenditure details of the Company.
Good-looking user friendly graphical interface with an exclusive do-it-yourself feature.
Reliable, profitable and renowned accounting application program for all large or midsize private and public sector business enterprises.