Barcode Label Maker Software - Manufacturing Industry
Barcode maker software is simply used to create high resolution and versatile barcode images, labels, tags and stickers for satisfying industrial manufacturing and warehousing industry needs. With the interactive support of barcode generator program, the software provides flexible option to print industrial labels, manufacturing labels and ware housing labels with option to save at specified location on pc for future reference. Using barcode font symbology, you will be able to create own style of barcode in different size and shape. Barcode label maker program provides reliable solution to design and print attractive barcode images with option to save designed barcode images in various file formats including TIFF, BMP, PNG, JPEG, EMF, EXIF and WMF etc.
Barcode Label Maker Software - Manufacturing Industry with image designing objects is used to create customized barcode labels with option to modify font, color and image setting of designed barcode images. Barcode label program provides proficient solution to fabricate eye catching and high resolution business specific asset tags, price stickers, discount coupons and food labels, security tags for warehousing as well as manufacturing industries in easiest way. Software barcode does not require any prior specialized skill or advice required to generate labels for manufacturing warehousing industries. Company suggests you to download free trial demo of barcode maker software (for handling industrial, manufacturing and warehousing industry needs) to test and evaluate the working feature and functionality of barcode maker program to create perfect quality barcodes. Place order to get licensed version of barcode software to advanced label creation process.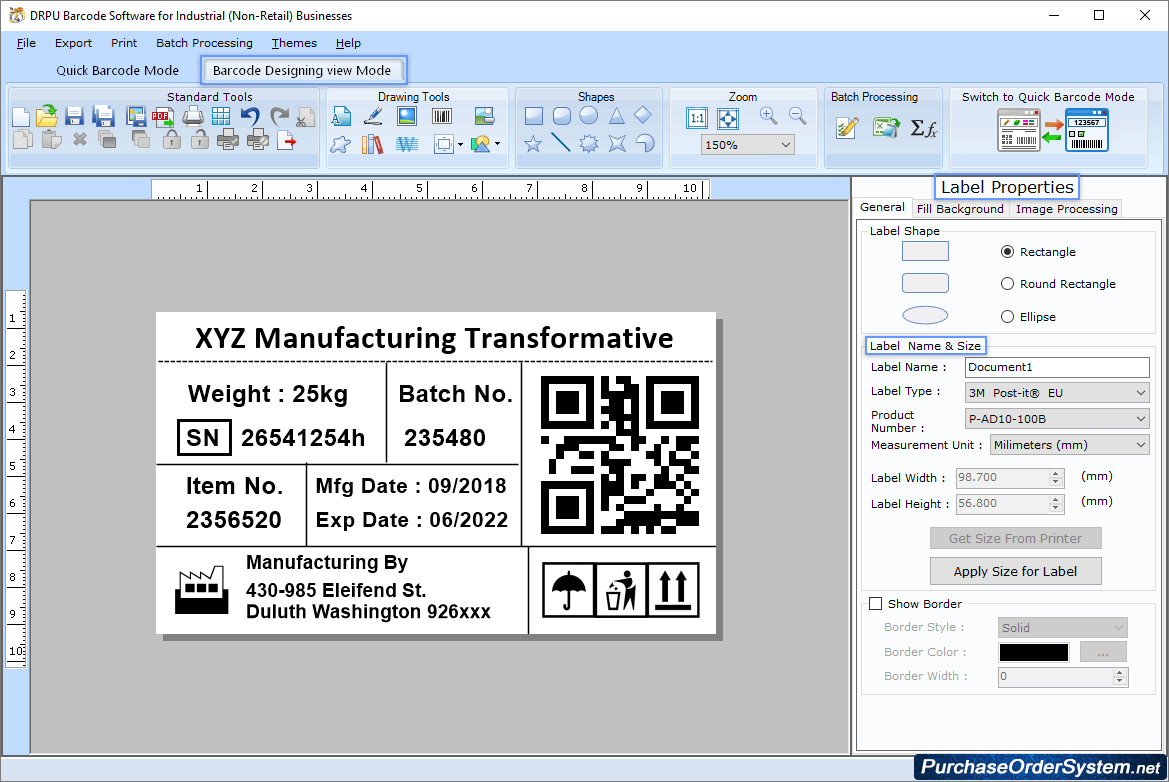 Software Features :-
Advance barcode software supports linear and 2d barcode font standards to create attractive barcode labels.
With the printing setting, you can print multiple barcodes labels on single paper at a time.
With the option to change font, color and image setting, you will be capable to fabricate customized barcode images.
With the option of print preview functionality, you can view created barcode images before final printing. Thus eliminate printing errors.
Supportive barcode fonts :-
Linear Barcode Fonts - Coda bar, Code 11, Code 128, Code 128 SET A, Code 128 SET B, Code 128 SET C, Code 39, Code 93, Code 39 Full ASCII, Industrial 2 of 5, Interleaved 2 of 5, ITF-14, LOGMARS, MSIPlessey, Standard 2of 5, Telepen, UCC/EAN-128, USS-93.
2D Barcode Fonts - Aztec, Databar, Databar Code 128, Databar Code 128 Set A, Databar Code 128 Set B, Databar Code 128 Set C, Databar Limited, Databar MicroPDF417, Databar PDF417, DataMatrix, MaxiCode, PDF417, QR Code.